William Morgan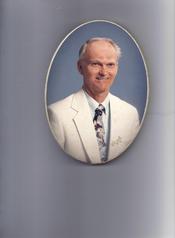 Willam Morgan
(March 4, 1939 – October 2, 2012)
William H. (Bill) Morgan Jr. age 73, of Cobbtown passed away on Tuesday, October 2, 2012. Bill was born in New Orleans, Louisiana and has lived in Cobbtown for the past 15 years after living in Theodore, Alabama for 27 years. His life's careers have been the U.S. Navy, Electronic Engineer, and Offshore Rig Electrician. He was an active member of the Cobbtown Holliness Church serving as a Deacon. He loved serving the lord.
Bill was preceded in death by his father William H. Morgan Sr., mother, Elizabeth (Hall) Morgan, and his two brothers Charles Morgan and James Morgan. Bill is survived by his beloved wife of 50 years, Beth Fields Morgan and children: Son, Michael of Cobbtown, Fl, Son William D. (Doug) wife Joanne of Clearwater, FL, Son Steven wife Sharron of Houston, TX, and Son James and wife Anna from Mobile, AL, his beloved Grand Children William D. (Doug), Meranda K. Pruett, Ryan C., Kaitlynn E., and Nicole B. his Great Grand Children Ellie, Abby, Hailie, and Lillian and many loving member of his extended family and community.
Pallbearers will be members of his family and Honorary Pallbearers will be members of the Cobbtown Holiness Church.
Funeral Services will be held at Jay Funeral home on Friday, October 5th at 3:00PM with Bro. Jim Lassiter officiating services. A viewing will be held from 2:00 – 3:00PM. Burial will follow at Pine Grove Cemetery. Jay Funeral Home is in charge of arrangements.
Posted by
North Santa Rosa
on Oct 4 2012. Filed under
Obits
. You can follow any responses to this entry through the
RSS 2.0
. You can leave a response or trackback to this entry