Abe Dearl Dixon
Abe Dearl Dixon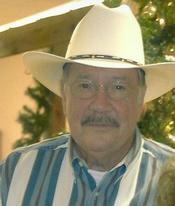 (February 2, 1939 – August 19, 2012)
Abe Dearl "Ducky" Dixon Dearl age 73 passed away on Sunday August 19, 2012 at Sacred Heart Hospital in Pensacola, Fl. He was a lifelong resident of Jay, Fl. He retired from Solutia in 1994 after 36 ½ years. Dearl was a member of the Riveria Band, and he enjoyed singing and performing in local restaurants.
He was a huge Florida Gator Fan. He loved to camp and fish with our camping friends and teaching his three grandsons how to deer hunt. He was a member of the Community Church of Christ. He was a loving husband, father and grandfather.
He was preceded in death by his father, Abe Dixon; mother, Ruby Barnes Dixon; sisters, Hazel Henry, Will dean Tompkins, Lois Ward and brother, Clayton Dixon.
He is survived by his loving and devoted wife, Myrtice Manning Dixon of 53 ½ years; sons, Dearl Allen (Vicki) Dixon of Pace, Fl., and Jon Derek "Derry" (Debbie)Dixon of Zebulon, Ga.; granddaughters, Nikki (Eddie) Powell of Milton, Alli (Matt) Audiffred of Pensacola, Catherine (Matt) Lamphire of North Carolina; grandsons, Arron and Adam Dixon of Zebulon, GA, and Cody Dixon of Pace, Fl. Great-grandchildren, Abby, Nathan Powell, and Calli Audiffred; sister, Trudy (Don) Coleman and special friends, Sahara Shuburte, Isobell Mosley, Melba Jerkins, and Helen Sanders. Active pallbearers are Kenny McGhee, Ronnie Parker, Dickie Haul, Jimmy Ward, Bobby Guy, and Kenny Gray. A visitation will be held on Tuesday, August 21, 2012 from 6-9 p.m. at Jay Funeral Home. Funeral services will be held on Wednesday, August 22, 2012 at 2:30 p.m. at Jay Funeral Home with Pastor Diane Ward and Pastor Don Coleman officiating services. Jay Funeral Home is in charge of arrangements.
Posted by
North Santa Rosa
on Aug 20 2012. Filed under
Obits
. You can follow any responses to this entry through the
RSS 2.0
. You can leave a response or trackback to this entry