Max Gomillion
Max Gomillion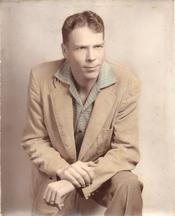 (December 25, 1927 – August 14, 2012)
Max Ray Gomillion was born 12/25/27 in Jay, Florida and died 8/14/12 at his home in Jay.He was predeceased by parents Hicks Cook Gomillion and Elva Gomillion; wife Carolyn Phillips Gomillion; brothers Claude, Earl, Vivian, Royce, Frank, and Wayne Gomillion; sisters Cecil Pugh, Bonnie Wild, Ruth Sheffield, Lila Grey Rabren, Eulene Terry, and his twin baby sister Sadie Faye.
Max was survived by son Tony (Janie) Gomillion of Jay; granddaughters Summer (Jeremy) Walker of Birmingham, AL and Kayla Gomillion of Auburn, AL; sister Elva Gomillion of Eastman, Georgia; brothers-in-law Curtis, William, Joe, and Rodney Phillips; and many nieces and nephews.
He was a loving and humble man devoted and concerned about his family and friends above himself. His radiant smile and positive attitude through a long illness was an inspiration to all who came in contact with him. Max was a graduate of Jay High School, an Air Force veteran, a retiree of Monsanto, and a member of Mt. Carmel UMC. He had a special love for football, cornbread, his granddaughters, and Lily.
Visitation will be Friday, August 17, 10:00 AM, at Mt. Carmel U.M.C., Jay. Funeral will follow at 11:00 with Rev. Lennie Howard officiating and burial will be later at Cora Baptist Church. In lieu of flowers, donations may be made to UMC Children's Home, 3140 Zelda Court, Montgomery, Alabama 36106-2607. Thanks to his special friends Ann Boyett and Frank Rowell.
Posted by
North Santa Rosa
on Aug 15 2012. Filed under
Local
,
Obits
. You can follow any responses to this entry through the
RSS 2.0
. You can leave a response or trackback to this entry