John Clarence Smith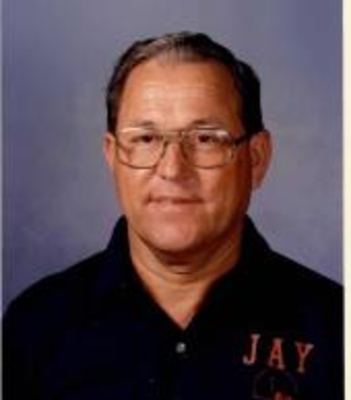 John Clarence Smith, 97, of Jay, FL, passed away on Wednesday, March 8, 2023 at the Terrace in Jay. He was born on October 27, 1925 in Coffee county Alabama and moved to Jay, FL in 1928. He retired from the Santa Rosa County School System in 1989, after forty years , as a teacher and coach. He was a member of Jay United Methodist Church and was reaffirmed in 2003.
Mr. Smith was an Alumni of Jay High school
Member of the Jay High School Hall of Fame
Alumni of The University of Florida
Alumni of George Peabody College (now a division of Vanderbilt)
Member of the Florida High School Athletic Association Hall of Fame
A mentor for countless students for many years
A Little League baseball coach for many years
A Certified swimming instructor and taught swimming in Jay during the summers
A veteran of World War II, US Army Rainbow Division in Germany
A lover of fishing, gardening, and spending quality time with his family
Honored By the Jay High School on January 27, 2022 when the gymnasium was named after him
He was preceded in death by mother , Doris McDaniel Smith; father, John Loyd Smith ; wives , Nellie White Smith and Margaret Weaver Smith ; brother , Harold Smith.
Survivors include his sons ; Thomas David ( Susan ) Smith, Paul Gregory ( Linda ) Smith , and Peter Lynn ( Cheryl ) Smith ; step-son , Frank Weaver ; step-daughter , Tina Mastrangelo ; sister , Eunice Smith Golden ; brothers , Edsol Smith , Felton ( Annelle ) Smith , Max Ray Smith , and Jimmy ( Rhonda ) Smith ; grandchildren , Sandy ( Zach ) Butterworth , Mandy ( Greg ) Gipson , David ( Michelle ) Smith , Jennifer ( Jessica ) Troe , Laura ( Andrew ) Wood , and Kyle ( Erin ) Smith ; great grandchildren , Gunner Roux Smith , Emily Clare Wood , Mary Hays Gipson , Kate Gipson , Owen Gipson , Catha Butterworth , and Stella Butterworth.
Funeral services will be held at 2:00 PM on Saturday , March 18 , 2023 , in Jay Funeral Chapel with Cecil Jackson , pastor of Jay United Methodist Church officiating .Friends may call from 12:00 (noon) until 2:00 PM. Burial will follow at Cora Baptist Church cemetery .
Serving as pallbearers will be; Greg Gipson, Zach Butterworth, Andrew Wood, Kyle Smith, David Smith, and Jimmy Smith.
Honorary Pall bearers will be All players that played under Coach Smith's Supervision.
'HE LOVED YOU ALL '
In lieu of flowers, the family asks in coach Smith's honor, if you wish; please donate to your favorite charity.